News
UPDATE: 21st March 2020
Nuthampstead Shooting Ground is now temporarily closed until further notice. To hope that our customers can understand the situation we are in and keep away from the spread of the virus. We hope that this response will make a small contribution to the control of the situation that the country faces.
UPDATE: 20th March 2020
In light of this afternoon's announcement bu the UK government we have made the decision to open the ranges only during opening times. This will involve customers still being able to shoot but only being able to access the toilet facilities and not the rest of the clubhouse.
Takeaway food an drinks will be supplied through a "hatch" system as well as any cartridges and credit for clays.
We hope that this system will survice for as long as we are allowed. We apologise to all our customers for this inconvienience but we are taking this outbreak very seriously and want to keep all customers and families safe.
18th March 2020
Due to developments in Covid-19, Nuthampstead Shooting Ground will be putting measures in place to ensure the safety of all staff, customers and visitors.
We are resuming with our usual opening hours - Wednesdays and Saturdays 10am-4pm.
We regret to inform you that any major competitions and Sundays are having to be cancelled until after 12th April 2020. For further information visit British Shooting or BICTSF website. Additional information for other events are on the CPSA website.
Please be aware that in a very uncertain time our position is most likely to change so please use this website and our Facebook page for updates.
We politely request that the shooting community respect the safety of the vunerable categories and use hand wash and sanitiser at the Shooting Ground or bring your own provisions. If you are feeling unwell or been in contact with people of symptoms then follow government guidelines and not visit us. Unfortunately we cannot guarantee everyone's safety from this virus and every individual should take responsibility to stop the spread.
We hope that customers can understand the situation our business is in and we will endevour to do our best to continue operations.
We wish everyone and their families health and well-being in these strange and difficult times.
Ed and Nicola Barker
Nuthampstead Shooting Ground is please to announce an excellent develepment in the equipment we are using.
In the summer of 2018 the decision was made to use Promatic Ltd as the machinery supplier. The excellent service and installation happened within 16 days of order which allowed major competitions to use the new machines.
We thank Promatic for their ongoing support and supplying reliable clays and machines.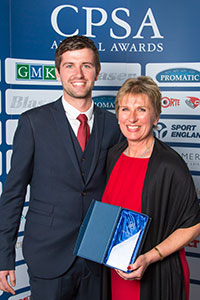 Nicky and Ed collected an Award on behalf of the late Martin Barker for the CPSA Life time Contribution in 2017.